nemlog
article
Japan
nemket
flea market
That was Japan's NEM activity
I have made a post on nemlog about "nemket", an event to be held in Tokyo in 2017 .
I hope this will be helpful to NEMbers around the world who are thinking of holding NEM events in areas where NEM is not yet well known.
<<The text below>>

In December 2017, an event called "nemket", a flea market dedicated to XEM payments, was held in Tokyo.
 At the time, Along with other cryptocurrencies, NEM/XEM had a big boost. However, some NEMbers were not satisfied with just the increase in the market price of XEM. They wanted to realize the true value of NEM. This "nemket" was made possible by these NEMbers.
In other words, "We want a place where we can actually use XEM" "We want to do things that can only be done with NEM/XEM. " "We want to contribute to the creation of NEM transactions ourselves."  "We'd like to contribute to the creation of NEM transactions ourselves."  "Let's make that happen by creating the activities and ivents for it!"  " And most of all, fun for the operators and participants!" That's why the NEMbers organized this "nemket".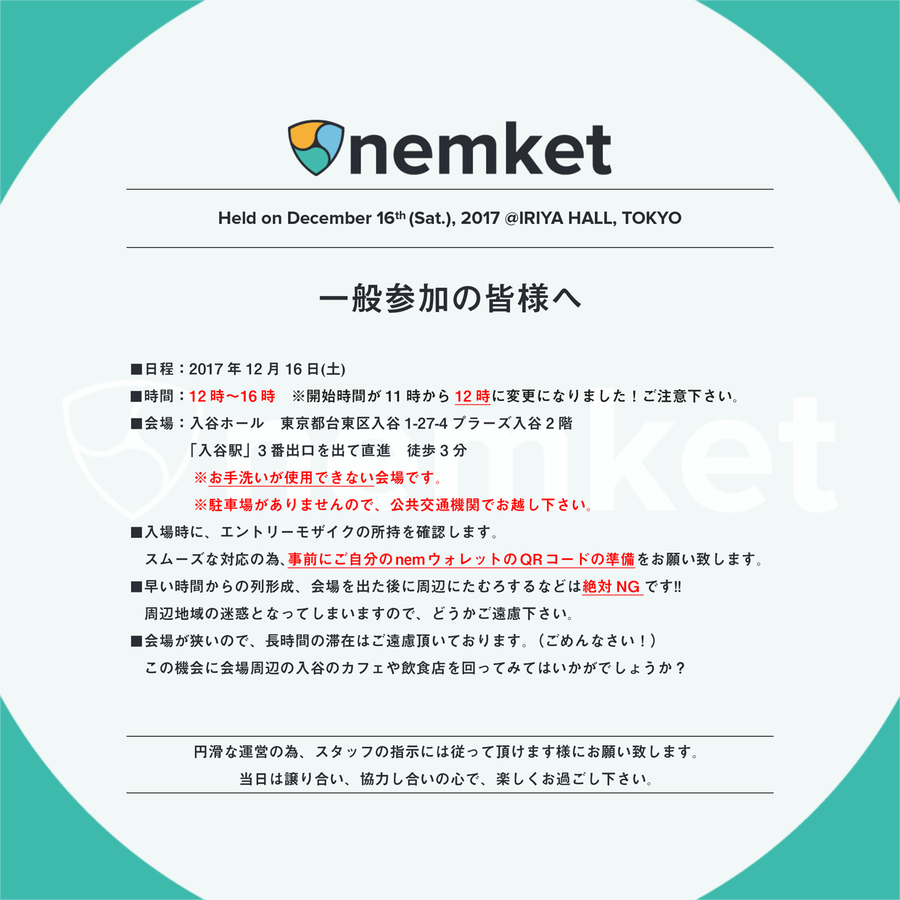 Event Information
 The main concept of this "nemket" was that the products and services on sale can be purchased only by XEM payment. In those days. Japan was in the middle of the cryptocurrency boom at that time. However, there were only a few people who had actually made a cryptocurrency payment using a mobile device.
So to speak, it was a concept with high barrier for most of Japanese people to participate. However, the organizers of Nemket came up with a variety of ways to make it easier for people to participate. By doing so, they lowered the barriers to participation considerably. Moreover, it made the people who participated in nemket to enjoy it a lot.
Some of the innovations made by the nemket management team are listed below.
1) Participants were required to register in advance.
2) Permission slips were issued on NEM Mosaic and sent to the NEM accounts of applicants. On the day of the nemket, participants were required to present the mosaic to the organizer upon entering the venue.
3)As a result of 1) 2), participants could at least experience operating the wallet on their own (or with the help of friends) prior to the day of the Nemket.
4) The design of souvenirs or gifts for visitors prepared in advance by the operator A competition was held. Several winners were sent XEMs as prizes.
5) Participants were given several free souvenirs.
6)If the participants posted images of their purchases or images of the event on Twitter with a designated tag, they were Upon submission, the management gave us 39.393939XEM (equivalent to about $25 in market value at the time).
Some of the souvenirs for nemket visitors
Although the number of participants was limited due to 1), it was a highly cohesive event as most of the participants were interested in NEM and cryptocurrency.
Due to 2) and 3), time loss due to participants not being able to operate their wallets could be reduced. Most transactions on the nemket went smoothly. (Although there were a few participants who only had PC terminals.)
4) This was one of the factors that made the designers and illustrators interested in cryptocurrency (e.g., accepting a contract for cryptocurrency payment).
Due to 5) and 6), even participants with limited financial resources were able to fully enjoy the event.
2) 4) and the purchasing behavior of participants on the day of the event made it possible for NEM transactions to be generated.
Due to 6), if you search for "#nemket2017" on Twitter, you can see images of products for sale and souvenirs at nemket on participants' tweets.
NEM design towel purchased by the author in nemket
Until then, there were several cryptocurrency meetups and training sessions aimed at "learning and getting information " in Japan.
But this Nemket was more valuable in that participants could experience the fun of using cryptocurrency on their own initiative.
I was not involved in the management of nemket, so I didn't have an exact accounting of nemket. However, based on the information on social media, it was inferred that nemket received over $10,000 in donations at market value at the time.
I guess this was the result of the high expectations and appreciation of Nemket's activities by many Japanese NEMbers .
The NEM design necklace that the author won at the nemket raffle event
And then, as if to carry on the spirit of the nemket, various events were held in Japan.
For example, in the first half of 2018, "NEMDAY (in NAGOYA)" and "NEMFES (inTOKYO)" and "NEMCAFE (in FUKUOKA)". These events were a combination of nemket and information and learning sessions. Each event was designed to be fun for both organizers and participants. The spirit of the nemket had been passed down through many NEMbers.
The reason why there are so many NEMbers in Japan is that they want to increase the number of NEM/SYMBOL transactions through their own activities even if it is only a small number, and that the activities they are involved in will be fun for them and the people who participated in their activities.
Author:

patapiron
Published on: 26/06/2020 13:36
(edited on: 29/06/2020 19:29)